Combatting bullying
Anyone can be bullied at any time of their life. It is estimated up to 20 per cent of children or young people will be bullied, and it is more likely during school years. Unfortunately, children with disabilities are often targeted by bullies.
Bullying isn't a single incident but a campaign of activities when a person or a group repeatedly and intentionally use or abuse their power to intimidate, hurt, oppress or damage someone else.
Being bullied can have serious consequences for children. It may lead to anxiety, low self-esteem and depression.
Parents can feel angry, helpless and frustrated if they discover that their child has been bullied. You can help your child by recognising the signs that your child may be a target, helping them to work out their responses to bullies and addressing the problem with their school or sports or community group.
Recognising signs of bullying
Children and young people may sometimes find it hard to tell parents if they are being bullied and will keep it to themselves. They may feel ashamed, embarrassed or too threatened by the bully to tell anyone.
Some signs of bullying include:
unexplained physical injuries (e.g. bruises, scratches or cuts)
lost or damaged personal belongings (e.g. clothing, books or electronics)
reluctance to go to school
lower academic performance or loss of interest in schoolwork
changes in eating habits (e.g. loss of appetite or over-eating)
complains of physical ailments (e.g. headaches, stomach-aches) particularly on school days
major changes in relationships and friendships or avoidance of social situations
changes in sleeping patterns (e.g. difficulty sleeping or bed-wetting)
refusal to discuss what is happening at school or sporting/community groups
self-destructive behaviours (e.g. getting into trouble, self-harming or talking about suicide)
decreased self-esteem and increased levels of anxiety
avoidance of the internet or phone
displays of unusual treatment towards other children (e.g. controlling or dominant behaviours and lack of empathy towards other children being bullied).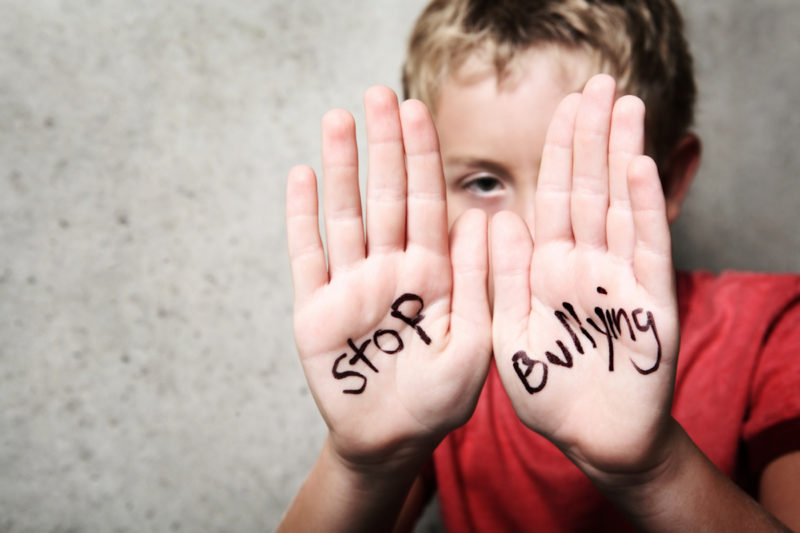 Helping your child if they are being bullied
It is important for you to remember to:
take your child's bullying seriously
reassure them that the bullying is not their fault
help them to work a strategy for resolving the bullying
tell them you will take appropriate action.
Listen to your child's experience calmly, remain positive and focus on identifying a solution. Make sure your child understands they are not responsible for the bullying and that the situation can be tackled appropriately.
Discuss strategies with your child. Think of short-term strategies with your child to see they can resolve the bullying. Encourage your child to try:
walking away
appearing unimpressed
saying "no" firmly
speaking to another adult (such as a teacher).
If the bullying continues speak to staff at your child's school or sporting/community group.
Do not advise your child to fight with the bully – this can be dangerous, exacerbate the situation and your child may be reported for fighting.
Discuss the bullying with your child's school. Your child's teacher may not be aware that the bullying is occurring, particularly if it is happening outside of the school environment or online. Let your child know that you plan to discuss the bullying with school staff. All schools are required to have a bullying policy and when you meet ask about this and how they will handle the situation.
Try to instill confidence and pride in your child. A child that has been bullied can be at greater risk of being bullied again in the future and lose confidence (even if the bullying has been addressed).
Encourage your child to spend time with other children that are a positive influence or participate in sports, clubs or groups that build personal strength and peer friendships.
Seek professional support. If you find that the bullying has deeply affected you or your child you may want to consider seeking external professional support from your GP or a psychologist.
Types of bullying
There are different types of bullying:
physical bullying – hitting, kicking or hurting another person or intentionally damaging their belongings
verbal bullying – using of negative words such as name calling or insults
social bullying – spreading lies, rumours, social exclusion or undesirable pranks
psychological bullying – the intentional use of words or actions (e.g. stalking, intimidation and manipulation)
cyber bullying – using technology to verbally, socially or psychologically bully another person, using networking websites, mobile phones, cameras, emails or internet chat-rooms. Cyber bullying can include sending hurtful text messages on networking sites (e.g. Facebook, Instagram or internet forums), sending photos and videos of the victim to others, spreading rumours electronically, or setting up a fake profile of the victim to post messages or status updates.
More information
Websites and organisations that provide bullying information and support (particularly childhood bullying):